Associate Professor
South Asian Program Coordinator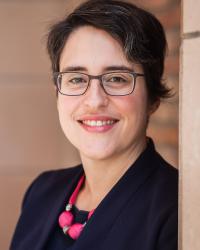 Contact Information
Office Hours:
Wednesdays 2:00-3:00pm on Zoom (contact instructor for link)
Biography
Ph.D. South Asian Languages and Civilizations, University of Chicago
M.A. South Asian Languages and Civilizations, University of Chicago
B.A. Middle East and Asian Languages and Cultures, Music, summa cum laude, Columbia University
Read my latest piece on Urdu poetry and its use in India's Anti-CAA protests, also just published in Dawn
Prof. Jennifer Dubrow is Associate Professor of Urdu, with affiliate appointments in Textual Studies and the South Asian Studies Program in the Jackson School of International Studies. Her research and teaching focuses on modern Hindi and Urdu literatures; print culture and the history of the book in South Asia; and South Asian modernisms.
Her first book, Cosmopolitan Dreams: The Making of Modern Urdu Literary Culture in Colonial South Asia (University of Hawai'i Press, 2018; Permanent Black, 2019), showed how the arrival of print fostered a dynamic and interactive literary culture. In the pages of Urdu-language periodicals and newspapers, readers found a public sphere that not only catered to their interests but encouraged their reactions to featured content.
Prof. Dubrow's current research focuses on Hindi and Urdu literary modernisms in post-independence India and Pakistan. Her second book, Voicing Dissent: Urdu Literary Modernism and the Progressive Writers in 20th-century South Asia, offers a new account of Urdu fiction by progressive and modernist writers in Pakistan and India from the 1930s to the 1960s. It argues that short literary forms in Urdu and Hindi became a primary mode of dissent to Pakistani and Indian nationalisms, and to critique life in the new nations. Research for this book has been supported by grants from the American Institute of Indian Studies, the American Institute of Pakistan Studies, and Friends of the UW-Madison Libraries.
In addition, Prof. Dubrow's articles have been published in Positions, Journal of Postcolonial Writing, Comparative Literature Studies, The Indian Economic and Social History Review, and South Asian History and Culture.
Prof. Dubrow currently offers undergraduate courses on the modern literature of South Asia, the romance tradition in India, and Hindi and Urdu literatures, while her graduate teaching focuses on the history of the book in South Asia and literary modernisms in South Asia.
Prof. Dubrow receives award from the Urdu Writers Society of North America for her work and research on Urdu modernism