About the Director 
Chan Lü, Ph.D.,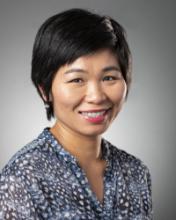 Associate professor, UW Department of Asian Languages and Literature. Dr. Lü received her doctoral degree in Second Language Acquisition from Carnegie Mellon University in 2009. Her research focuses on second language reading skill acquisition among learners in different educational settings, for example, dual language immersion programs and community-based heritage language schools. The primary goals of her research are to identify factors, both learner-external and learner-internal, that influence the acquisition of language and literacy skills in two different languages.
When she is not working, you may find her running outdoors, hiking, playing piano or violin, and hanging out with family and friends. 
Collaborators
Amy Pace, Ph.D.,assistant professor, UW Speech and Hearing Sciences. Dr. Pace completed her postdoctoral training in the Department of Psychology at Temple University and received her doctorate in Language and Communicative Disorders from San Diego State University and the University of California, San Diego in 2013. Her research focuses on language acquisition, assessment, and early intervention from birth to five, with an emphasis on children from diverse, disadvantaged, or high-risk backgrounds. The primary goals of this research are to understand the environmental factors and learning mechanisms that contribute to successful language acquisition, and to apply this knowledge to develop targeted, community-centered interventions that support positive developmental outcomes in early childhood and beyond.
Graduate research assistants
Jackie Otting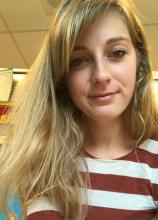 Jackie Otting is a research assistant in Dr. Chan Lü's lab. She is currently pursuing a Masters of Education in Learning Sciences and Human Development from the UW College of Education. She possesses a bachelor of arts degree from the University of Iowa in Asian Languages and Literatures - Chinese with a focus on world language education and ESL from the University of Iowa. During college she studied at Tianjin University of Technology and Taiwan National Chengchi University. She currently holds a State of Iowa Teaching License in K-12 Chinese and K-12 ESL. She taught K-6 ESL for three years in Iowa City, Iowa and high school Chinese for the Iowa Department of Education. In her free time she likes to quilt, bake, hike, do yoga, swim, and fish.
Undergraduate research assistants
Isabel Pfeifer