Graduate Student in South Asian Languages and Literature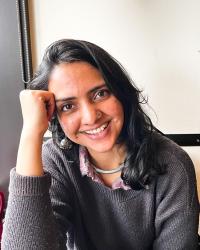 Contact Information
Biography
M.A., Asian Languages and Literature, University of Washington, Seattle, 2023.
M.A., Literary Art and Creative Writing, Ambedkar University Delhi, 2019.
B.A., English, Miranda House, University of Delhi, 2017.
Anjali is a doctoral student in the South Asian Program at the department of Asian Languages and Literature. She is interested in the study of devotional literature written by women during the eighteenth century in North India. She is invested in analysing how caste, gender, and histories intersect in the context of devotional literary milieu. 
Before joining UW, she has worked as a lecturer in Jaipur, India. Besides, she has also interned in the editorial department of two leading publication houses of India; Penguin Random House and HarperCollins. 
Anjali's essay titled, '"ek admi tha, usne shadi karli…" (There Was a Man, Who Got Married…): Female Agency and Domestication in Omkara (2006)" is a part of the book, ''Bad' Women of Bombay Films: Studies in Desire and Anxiety', published by Palgrave Macmillan in 2019. In the same year, she defended her M.A. dissertation, 'Writing as an Outsider: A Trap of Representing the Other'. Her creative works appear in the Juggernaut and the Museum of Material Memory under her pen name, Anjalee Durgesh.