Upcoming Washin Kai Events:
"What is Noh?" A Lecture by Professor Paul Atkins
September 22, 2021
REGISTER HERE: https://events.uw.edu/WhatIsNoh
Noh plays have been performed continuously in Japan for the past six hundred years. Noh is the oldest extant dramatic tradition in the world. Like opera, noh began as popular entertainment, originating in simple plays performed all over Japan at shrines, temples, and other venues.
In the fourteenth century, noh was elevated to high art through the efforts of the great actor, playwright, and theoretician Zeami (1363-1443) and others and the patronage of elite figures like the shogun Ashikaga Yoshimitsu (1358-1408). Part ritual, part entertainment, noh was granted privileged status by the Tokugawa shogunate and was closely associated with warrior culture. In the twentieth century, noh came to the attention of theater lovers in the West and inspired modern poets and playwrights. Today, noh is offered as an exemplar of traditional Japanese culture, a masked dance-drama that combines poetry, instrumental and vocal music, dance, costume, architecture, and sculpture with great subtlety and unparalleled artistry.

This talk by Paul Atkins, professor of classical Japanese at the University of Washington, will provide an introduction to this fascinating dramatic form: its performance traditions, themes, history, and philosophy. It is designed for those with no previous familiarity with noh or the Japanese language. We hope that those who watch
it will derive even more satisfaction from our upcoming performance and talk by the acclaimed noh actor Takeda Munenori, "The World of Noh Drama," on October 13.
The World of Noh Drama with Takeda Munenori
October 13, 2021
Registration details coming soon!
Takeda Munenori, the world-renowned Noh performer, and his ensemble of actors and musicians will present a number of Noh performances from Tokyo, with commentary by Professor Paul Atkins. This event will also feature a demonstration of tools and materials used in Noh drama and will be followed by a live Q&A with Master Takeda Munenori from Tokyo, and Professor Atkins, moderated by Professor Stephen Sumida. 
Takeda Munenori was born in 1978 into the Takeda family that has been in the Nohgaku profession since the Edo period. He is widely regarded as one of the most engaging and charismatic performers of his generation. Takeda has recently conducted a series of workshops on Noh at the University of Edinburgh in Scotland and has travelled extensively to promote Noh to an international audience.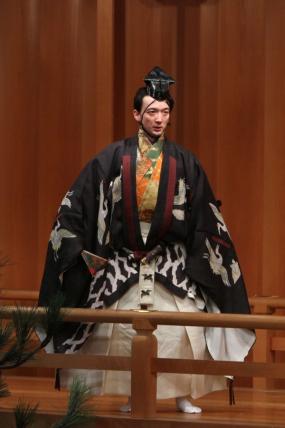 ---
Past Washin Kai Events:
Hyakunin Isshu and the world of Japanese medieval poetry by Paul Atkins
March 3, 2021
Hyakunin isshu (One Hundred Poems by One Hundred Poets) is the most famous collection of poetry in Japan. It has been read, discussed, recited, memorized, copied, illustrated, and parodied for centuries and has been the subject of more than one series of manga and anime. Most people encounter it for the first time through a game in which players listen as a reader recites verses in random order and compete to be the first to snatch the card bearing the text of the corresponding poem. Widely believed to have been compiled by the poet and courtier Fujiwara no Teika (1162-1241), Hyakunin isshu has educated and delighted many generations of readers as a model of poetic composition and an introduction to the fascinating world of waka, classical Japanese poetry.

In this talk, Paul Atkins will provide an introduction to the content, structure, and history of this very influential anthology, with special attention to its mysterious origins in medieval Japan. When did it first appear? How was it created? What was its original purpose? You will be surprised (perhaps even shocked!) by the answers he proposes.
Paul Atkins is professor of Japanese in the Department of Asian Languages and Literature at the University of Washington. He teaches and writes about the classical language, literature, and culture of Japan with a particular emphasis on the medieval era (ca. 1150-1600). Author of Revealed Identity: The Noh Plays of Komparu Zenchiku
and Teika: The Life and Works of a Japanese Poet, and an award-winning translator, he holds a BA in English and an MA and PhD in Japanese from Stanford University.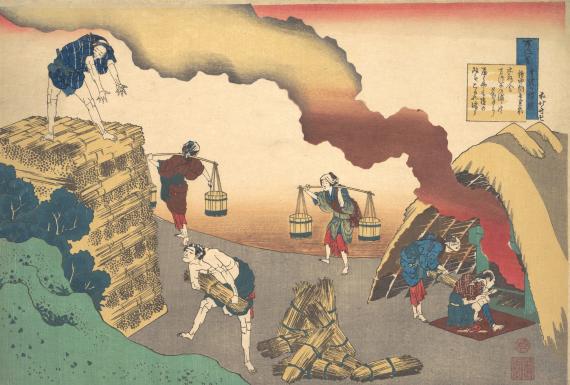 Illustration of salt-making by the sea for Hyakunin isshu no. 97 ("konu hito wo," by Teika). From the series One Hundred Poems Explained by the Nurse (Hyakunin isshu uba ga etoki), by Hokusai (1760-1849). Woodblock color print, collection of the Metropolitan Museum of Art.
---
Town Hall Seattle and Washin Kai Present Rakugo by Katsura Sunshine
Tuesday, October 20, 2020
Washin Kai and Town Hall Seattle welcomed renowned entertainer Katsura Sunshine for a special performance of unique storytelling called rakugo (落語). Rakugo is a 400-year-old tradition of comic storytelling in Japan. Katsura Sunshine starred in the NHK World TV series "Dive into Ukiyo-e", emceed the opening reception for the G20 Summit in Osaka in 2019, and has performed in an extended run of shows Off-Broadway. This special English-language performance will be broadcast to us live from Tokyo.
Katsura Sunshine (桂三輝) was born in Toronto, Canada and began in entertainment as a playwright, composer and producer of musical theatre. In 2008 he became the 15th apprentice to the great Rakugo Master Katsura Bunshi VI (桂文枝), from whom he received the name Katsura Sunshine.
---
"Zen Master Zekkai: The Life of a Medieval Japanese Monk"
A Lecture by Paul S. Atkins
Professor of Japanese and Department Chair, Department of Asian Languages and Literature
Co-sponsored by the Consulate General of Japan in Seattle
Tuesday, March 3, 2020 7:00 p.m.
Kane Hall, room 210
University of Washington
Not all Japanese literature is written in Japanese!  After the introduction of the Chinese writing system to Japan over 1500 years ago, classical Chinese was frequently used until the modern era for official documents, letters, and literary works.
Among the best Japanese poets to compose in Chinese was the Zen monk Zekkai Chūshin (1336-1405).  Born and educated in Japan, he lived in China for eight years at the beginning of the Ming dynasty.  Before leaving China, Zekkai exchanged Chinese poems with the emperor and, after returning to Japan, was appointed abbot of prestigious temples in Kyoto and then head of all Zen monks in the country.  He aided the shogun Yoshimitsu during the restoration of official relations with China in 1401.
---
Washin Kai Recitation (Rodoku 朗読) of Benkei at the Barrier

Wednesday, October 16, 2019, 7:00 p.m.
Kane Hall, Room 210, University of Washington
 A Modern Retelling of One of the Most Famous Stories in Japanese Samurai Lore
Performed in Japanese by Ms. Kima HOTTA with English subtitles
Based on the novel Ninjō:  Ataka no seki by Mr. Hiroaki TODA
The brilliant general Minamoto no Yoshitsune distinguished himself in battle as a masterly strategist during Japan's longest civil war, the struggle between the Minamoto and Taira clans that lasted from 1180-85.  
Not long after Yoshitsune destroyed the Taira at Dan-no-ura, he was suspected by his elder half-brother and commander-in-chief Yoritomo of disloyalty, and fled the capital, Kyoto. 
Among his trusted retainers was the formidable Benkei, a warrior and Buddhist monk renowned for his fearlessness, resourcefulness, and steadfast loyalty.  Disguised as traveling ascetics raising funds to rebuild a temple ruined during the war, Yoshitsune and his band of retainers are stopped at the Ataka barrier by a suspicious guard, Togashi Yasuie.
The heart-rending story that follows has been told and heard for centuries.  It was adapted into a noh play, a kabuki play, and a film by Kurosawa.
In this modern retelling, the talented Kima Hotta recites an adaptation of the story by Hiroaki Toda, which fleshes out the story for contemporary audiences and adds its own clever twist.  
---
REIWA:  Paul Atkins speaks about the new Japanese reign name
With the retirement of Emperor Akihito and the accession of Emperor Naruhito on May 1, Japan entered a new reign, titled Reiwa.  Breaking with some thirteen hundred years of tradition, the Japanese government drew the name, which it says means "beautiful harmony," not from one of the Chinese classics but rather the eighth-century Japanese poetic anthology
Man'yōshū
(Collection of Ten Thousand Leaves).
In an engaging and wide-ranging talk, professor of Japanese and department chair Paul Atkins explained the workings of the era-name system, the historical precedent of using Chinese texts, the meaning of the Chinese characters used to write "Reiwa," their origin in a preface to a group of poems about plum blossoms included in the
Man'yōshū
, and their relationship to the "Preface at Lanting" (
Lanting xu
) by Wang Xizhi, one of the most famous works of Chinese calligraphy.
The talk was presented by Washin Kai (Friends of Classical Japanese at UW), including Dr. Yumi Iwasaki, who introduced Professor Atkins, and given at Meydenbauer Center in Bellevue as part of Japan Fair in June 2019.  
---
Washin Kai lecture by Ross Henderson
"A Fistful of Incense: Basara and the Medieval Origins of Japanese Maximalism"
April 16, 2019 7:00 p.m.
Kane Hall room 210, University of Washington, Seattle
PhD student Ross Henderson delivered the Washin Kai spring lecture on Tuesday, April 16, 2019 to nearly 150 guests in Kane Hall at the University of Washington.  His lecture, "A Fistful of Incense: Basara and the Medieval Origins of Japanese Maximalism" brought to light a lesser known Japanese aesthetic and how to spot its presence today.  
---
Washin Kai lecture by Professor Paul Atkins
Friend from a World Unseen: Fujiwara no Teika and Medieval Japanese Poetry 見ぬ世の友:藤原定家と中世和歌
Thursday, October 25, 2018, 7:00 p.m.
Kane Hall, room 210
University of Washington
Inaugural Washin Kai Lecture:

copyright Paul Atkins
Paul Atkins, professor of Japanese and department chair, gave a lecture on the medieval Japanese poet Fujiwara no Teika (1162-1241), titled "Friends from a World Unseen: Fujiwara no Teika and Medieval Japanese Poetry." It was introduced by Mr. Tay Yoshitani, a member of Washin Kai.
 This lecture touched on Teika's life, some of his most famous poems, and his work's reception over the centuries since his death. Dr. Atkins' intriguing and wide-ranging overview of Teika's impact on Japanese literature and culture incorporated history, art, and even short clips from a noh play. A central theme was the possibility of knowing Teika—our "friend from a world unseen"—through his diary, calligraphy, and poetry.  The ability to immerse ourselves deeply through reading and writing into the worlds of other people is still relevant in today's increasingly digital and virtual world.
 Mr. Eugene Saburi, another Washin Kai member, delivered a heart-felt plea for support for the organization's mission after the lecture. Professor Atkins' lecture was sponsored by Washin Kai 和心会 (Friends of Classical Japanese at UW), which was formed in Spring, 2018 to preserve and strengthen classical Japanese studies at UW.  It is composed of volunteers from the Puget Sound community with strong ties to the university and to Japan, and their goal is to create a permanent fund at UW dedicated to supporting the study of classical Japanese language, literature and culture.
 The next Washin Kai lecture will be given on the evening of April 16, 2019, by Ross Henderson, Ph.D. student in classical Japanese literature.  Please see here for details.
---
Washin Kai - Tanabata lecture by Professor Paul Atkins
Saturday, July 7, 2018
5:00 p.m. - 6:00 p.m.
Meydenbauer Center
11100 NE 6th St. Bellevue, WA 98004
Professor Atkins gave a lecture at  Japan Fair this year which coincided with Tanabata, one of the festivals of the traditional Japanese calendar.   Originally based on a Chinese legend, Tanabata commemorates two lovers, the Weaver Girl and the Herder Boy, who were turned into stars (Altair and Vega) that meet in the heavens only once a year. Today in Japan, Tanabata is an occasion for making wishes, but for centuries it has been an important topic in Japanese waka poetry.  
Filmed at Japan Fair 2018


copyright Paul Atkins