Japanese Language and Literature Program receives

Japanese Foreign Minister's 2018 Commendation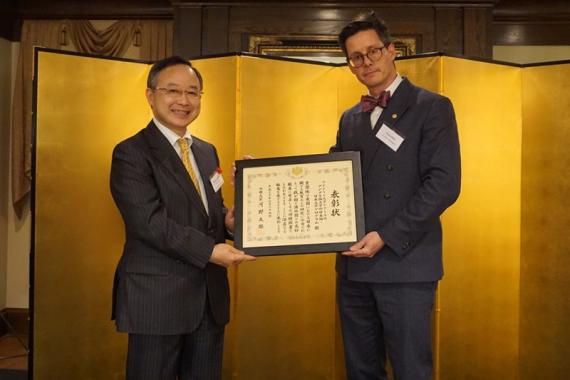 On November 13, 2018, the Japanese Ministry of Foreign Affairs honored the Japanese Language and Literature Program, Department of Asian Languages and Literature with a 2018 commendation for its outstanding contributions to the promotion of education and research about Japan in the U.S.  
Asian Languages and Literature embodies this spirit of global connection and collaboration.
Starting in 1910 with a course on classical Japanese literature, the UW Department of Asian Language and Literature has been instrumental in the development and expansion of Japanese studies in the Pacific Northwest and across the U.S. The department also has long-standing collaborations with world-class Japanese universities, creating opportunities for faculty, students and staff to engage across barriers of culture and language.
Our goal is continue fostering this strong relationship between the university and Japan.
Professor Atkins interviewed in the North American Post
Professor Paul Atkins was interviewed by Bruce Rutledge from the North American Post about the early career choices that led him to focus on Japanese poetry and the poet, Fujiwara no Teika. 
To read the full interview, click here.   
---
Japanese art and culture lecture by Professor Jack Stoneman of Brigham Young University
Friday, Nov. 2, 2018, 3:30 – 5 p.m.
Thomson Hall, Room 317
University of Washington
In his lecture titled, "The Meaning of Production and the Production of Meaning in Traditional Japanese Poetry, Printing and Painting", Professor Stoneman will talk about the history of Japanese culture, whether traditional poetry (waka) or religious icons or animal portraiture, the means by which cultural artifacts are produced bear a sometimes complicated relationship to the production of meaning through said artifacts. Stoneman will take us through examples of classical Japanese art to show us this relationship.
Jack Stoneman is Associate Professor of Asian and Near Asian Languages at Brigham Young University. He is currently researching late-Heian-period Japanese poet and priest Saigyō (1118-1190). His areas of interest include Japanese poetry, Saigyō (1118-1190) as poet and cultural figure, Japanese literati culture, and ceramics. He is also involved in cataloging and curating the Harry F. Bruning Collection of rare books and manuscripts at BYU.