Submitted by
Arts & Sciences Web Team
on June 1, 2009 - 12:00am
University of Washington students now have the opportunity to study Chinese abroad without ever leaving the University system. A new summer program at Sichuan University gives students the opportunity to obtain advanced language training overseas while still remaining within the Department of Asian Languages and Literature's curriculum. For the inaugural summer program, nineteen undergraduate and graduate students are spending eight weeks studying intensive Chinese at Sichuan University in Chengdu, located in the Southwest region of China.
From June 15 to August 7, students received four hours a day of formal classroom instruction in specialized classes taught by Sichuan University instructors. Classes are available for students studying at the second-, third-, and fourth-year levels. Upon their completion of the program, students will have earned 15 credits, equivalent to a full year's study at the University. In addition, they will engage in excursions to cultural and historical sites within the region. Zev Handel, an associate professor of Chinese language and linguistics, is administering the program for the Department. He notes tremendous enthusiasm from students for the program, with demand exceeding the spots available. "Our students already have opportunities to study Chinese abroad, but the programs tend to be expensive and to integrate poorly into our curriculum. Moreover, there are very few programs with this kind of opportunity to study at advanced levels."
The intensive language exchange program promises to answer a long-held ambition of the Department's Chinese language program to establish overseas training that articulates smoothly with the students' learning in campus classrooms. In collaboration with Arizona State University, whose students will be in classes together with UW students, UW faculty, notably Senior Lecturer Nyan-Ping Bi, have been working closely with Sichuan University in the development of course curricula. For example, the second-year course will use the same textbooks employed in second-year classes at UW. For the first time, UW students will are able to attend an overseas language program and know exactly what level of Chinese they will place into upon their return.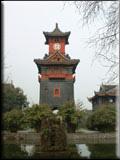 The program developed out of a long-standing exchange agreement between UW and Sichuan University under the auspices of the UW Worldwide program. Since the autumn of 2000, both universities have worked together to implement one-to-one exchange opportunities for scientific research. Under the exchange agreement, students pay tuition to their home institution while studying at the partner institution. The exchange agreement will continue under the new language program. For every three UW students going to Chengdu this summer, one Sichuan University student will come to UW for the entire 2009-10 academic year under the UW Worldwide Program.
The Department hopes to be able to draw on the success of this summer's exchange to expand and improve the program in the next few years, with the ultimate goal of allowing every student in the Chinese language program to benefit from low-cost, high-quality overseas instruction that fits smoothly into the Department's modern language curriculum.