Graduate Student in Chinese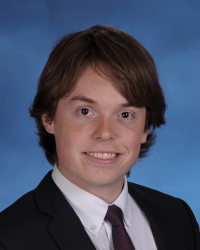 Biography
B.A. Linguistics, B.A. East Asian Languages and Cultures, University of California Berkeley, 2015
John Carlyle attended the University of California, Berkeley where he received his B.A. in Linguistics and East Asian Languages and Cultures. His main research interests are Chinese dialectology and the historical phonology. He hopes to improve the current understanding of the evolution of Sinitic languages by investigating the older, colloquial lexical strata of various dialects and the contact that occurred between them.
GSA Mentor Program Coordinator, 2019-2020
Oversees the Mentorship Program as a whole, matches mentors and mentees, plans mentorship events, and serves as a point of reference should any questions or issues arise.
Contact me if: 1) You would like to be a part of the program, either as a mentor or mentee, 2) you are interested in the position.
GSA Faculty Liaison, 2019-2020
Duties: This officer observes regular faculty meetings and reports pertinent information to the rest of the graduate student body.
Contact me if: You would like information about the proceedings of recent faculty meetings. You have questions about an item in a recent report on faculty meetings.