Friday, March 1, 2013 - 4:00pm
Please come and join us to watch the 2003 South Korean romantic comedy film "Please Teach Me English (Yeongeo Wanjeon Jeongbok)!"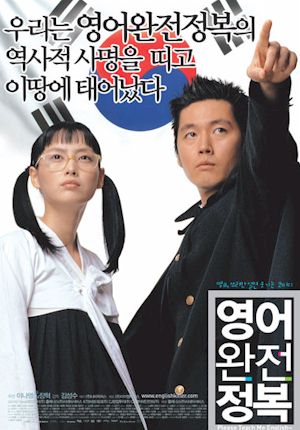 Synopsis: Yeong-ju (Lee Na-Young), a plain and awkward public official is unexpectedly assigned to enroll in an English language course by her coworkers since noone at their office can speak any Western languages. When misguided attention falls on her from her attractive, but cocky classmate Moon-su (Jang Hyuk), who teases Yeong-ju for her boring and plain looks, Yeong-ju foils his attempts to flirt with other women (particularly their beautiful English teacher, Cathy) and tries to impress him, all while struggling to discover new and quirky English phrases to use around the office.
This film screening is open to the public. Light Korean snacks and refreshments will be provided.
Presented by the UW Korean Language Program and the Department of Asian Languages and Literature.
For more information, please contact the event coordinator, EunYoung Won, at woney@uw.edu.